The Límbó (Limmm-Bó) is a unique dance and is also known as the "Under Stick Dance". The limbo dance, originally a ritual performed at 'wakes' (funeral dance which maybe related to African legba or legua dance) in Trinidad from the mid or late 19th century does not appear to have any roots in West Africa where most African traditions within the diaspora have emerged.

It is believe, that the people of Trinidad during this dance portrayed going down in the hold of a slave ship which carried them off into slavery. No matter how they twist or turn squirmed or arched they would go deeper and deeper, some would make it, some would not. The dextrous position had to be retained because the space between the upper deck and floor was narrow, designed for packing and not standing, hence it asically they were going into Limbo.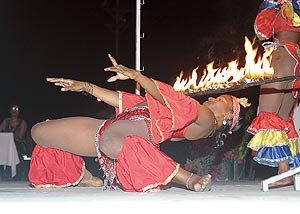 Today limbo refers to a dancer moves to a rhythm and dances under a stick, held up by a person on each end of the stick or a stand, without knocking or touching the stick. If the dancer is successful he must repeat this again and again with the bar being lowered another "notch" each time.

Each dancer does this until there is only one left standing who has not touched the bar, fallen down, laid on the floor or used his/her hands to keep balance. On-lookers as well as other dancers would clap and cheer (or egg on) and sing while the dancer tries to go under the stick. This dance was very popular at beach parties.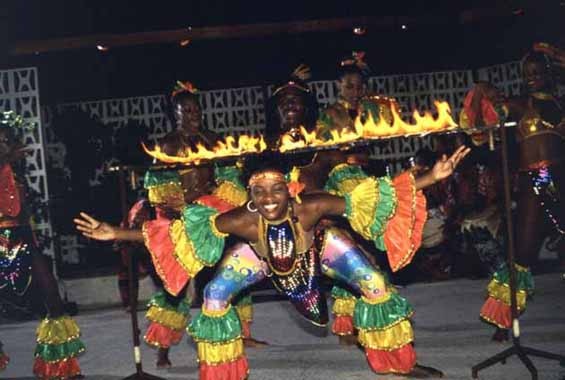 In the mid 1960's a Fire limbo was done as a stage act as well as a few contests were thrown, but legal hazards made this cease publicly. The Fire Limbo is a normal Limbo with the exception of the stick, it is set on fire burning while the dancer performs, with occasionally the dancer having a lighted torch, blowing alcohol from the mouth to the torch for an explosive bursts of flame. The Fire Limbo was not done socially, and was performed by professionals and should not be tried at home for obvious reasons. Eventually local entertainers adapted and transformed the ritual into the stage performance as it is today, spreading it throughout the region.

Holly Betaudier and Julia Edwards are both credited for its development as an artistic dance. Up to the 1950's and maybe later the ritual known as 'limbo' was still practised at wakes in rural Trinidad and Tobago.