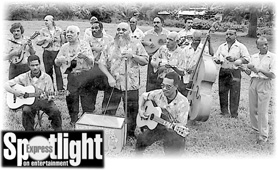 Trinidad and Tobago is best recognized as the land of Calypso and Steelpan, however during the Christmas season, the music is Parang.

Parang comes from the Spanish word know as "parranda" (action of merry making, group of serenaders). In Trinidad it refers to folkloric music of Hispanic American origins. In Dominican Republic the music is called "arguinaldo". Parang's origin are controversial. First theory of parang music originted during Christianity of Amerindians by French Clergy Indians in (Spanish) Missions. This does not explain the frequent references to Venezuela and the second theory is that parang music was introduced by Venezuelans imported to work in the cocoa estates which has some merit. Definitely, the close interactions with Venezuelans where parang is also played has matured to a popular form of music not only in Trinidad & Tobago but throughout the Caribbean.

Traditional parang bands often refer to as "Parenderos" consisted of four to six singers accompanied by musicians who played guitar, cuatro, mandolin (bandolin) , violin, cello (violoncello), bandol (bandola), box bass, tambourine, clapper, toc-toc (claves), wood block pollitos, tiple, scratcher (güiro) and maracas (chac-chac or shak-shak).

Parang bands would move from house to house in neighbourhood serenading to family and friends during festive seasons. It would be customary for families to greet the Paranderos with drinks and food, following specific steps or rituals that accompanied the entry to a home, the dedication of songs to a host, the eating and drinking, and the departure. The festive season begin in mid October and goes approximately to January 6 which is the feast of Epiphany. The resulting atmosphere would be that of happiness, togetherness and the joy of good Christmas lime that continue to the early hours of the morning.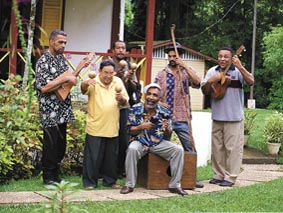 The traditional lyrics of parang which was sung in Spanish were mainly Religious and Christian songs. Today there are new and different styles and categories of parang called Aguinaldos (also known as Serenales), Guarapos and Despendidas. In the last several years Soca and Calypso have fused with parang creating Soca-Parang with lyrics in English which appeal to the North American Christmas with Santa and lots of gifts. In addition, in recent times Indian drumming and Chutney melodies mixed with parang has evolved into a whole new revolution of parang.

Some top parang entertainer included the late Daisy Voisin who was consider the Queen of Parang and entertainers Lara brothers, Los Ninos del Mundo, Sharlene Flores, Marcia Miranda and Scrunter.

Additional information:

Soca Parang/Parang Soca compiled by Francisca Allard, please click here.